Rani Haar also known as Sita haar, is a piece of gold-plated jewelry which is elongated and heavier than the usual necklace. The term Rani means queen, and haar means neckpiece, which gives importance to women's life. This extraordinary necklace usually weighs between 40-50 grams. Most likely, this necklace is elegant, beautiful, and is quite budget-friendly to many people. It has a long gold chain design with a big pendant on it. The princess of different countries used to wear gold-plated yellow thread haars. And now it's famous in overall many other countries.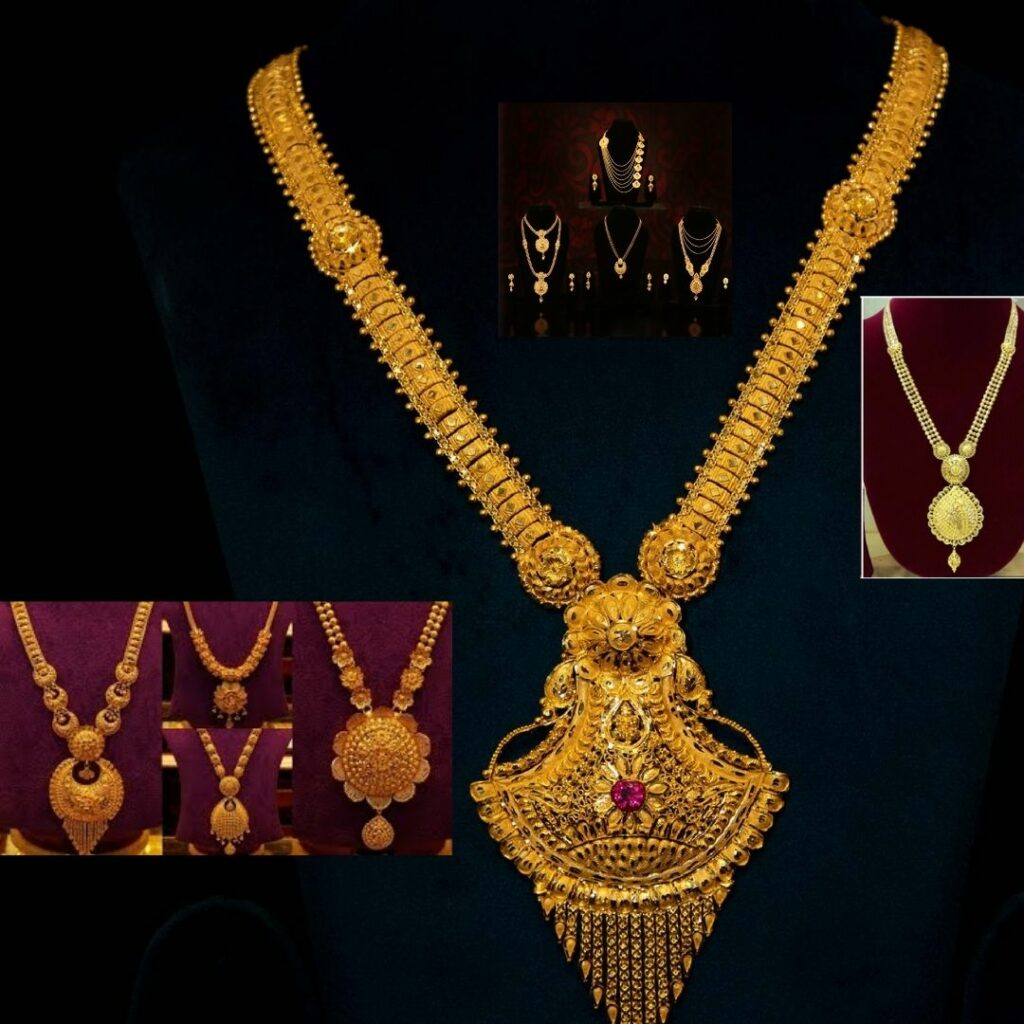 Since the design of rani haar changed from previous days, today it comes with a choker. It also has a shorter version of the chain with a choker. They are artificial necklaces that look similar to the gold necklace, and also hard to spot the difference. This Haar is usually preferred for the wedding ceremonies since the bride is the queen of that day to deserve the best. In Nepali tradition, they gave Rani haar to the bride during her wedding day by her mother-in-law. This tradition has been existing for many times. Not only the bride, but most women also love wearing jewelry because it helps to enhance the beauty of women. It also symbolizes the wealth and status of women.
Gold Plated Haar
Rani haar is gold plated cheap and more beautiful than others. This version is ruling all over the current market. The cost of this is estimated to be around 4-5 lakh for the real one, and the gold plating costs low price than the real one. This neckpiece combination goes best with the heavy bridal outfit and comes with stone designs. If you are thinking about a perfect haar design for matching your look, here are examples of the best Rani haar designs. And know the reasons why they look elegant and magnificent.
Chandra haar with multicolored pearls
Chandra haar is a traditional Rani haar design made with layers of chains. The Chandra haar also represents prince Ramchandra indicating the moon in a starlit golden sky. The term Chandra means moon, and haar means neckpiece. This haar is also known as the moon collar necklace. It consists of beautiful full moon shape gold. Many uncut diamonds are also added to it, which makes this set look flawless. This set consists of a minute of the gold-plated ball. The designs of Chandra haar have changed over the years, but the moon shape was seen similar in all other showpieces.
According to the culture, Chandra haar is presented to the native bride by her mother-in-law in the wedding ceremony. This haar is to be garlanded by her son to the bride in the ceremony. It also consists of a set of neckpiece that comes with a sweetheart neckline set, chandrama, and an earring. It also comes with a mixture of pearls with many other beautiful designs that indicate the symbol of love.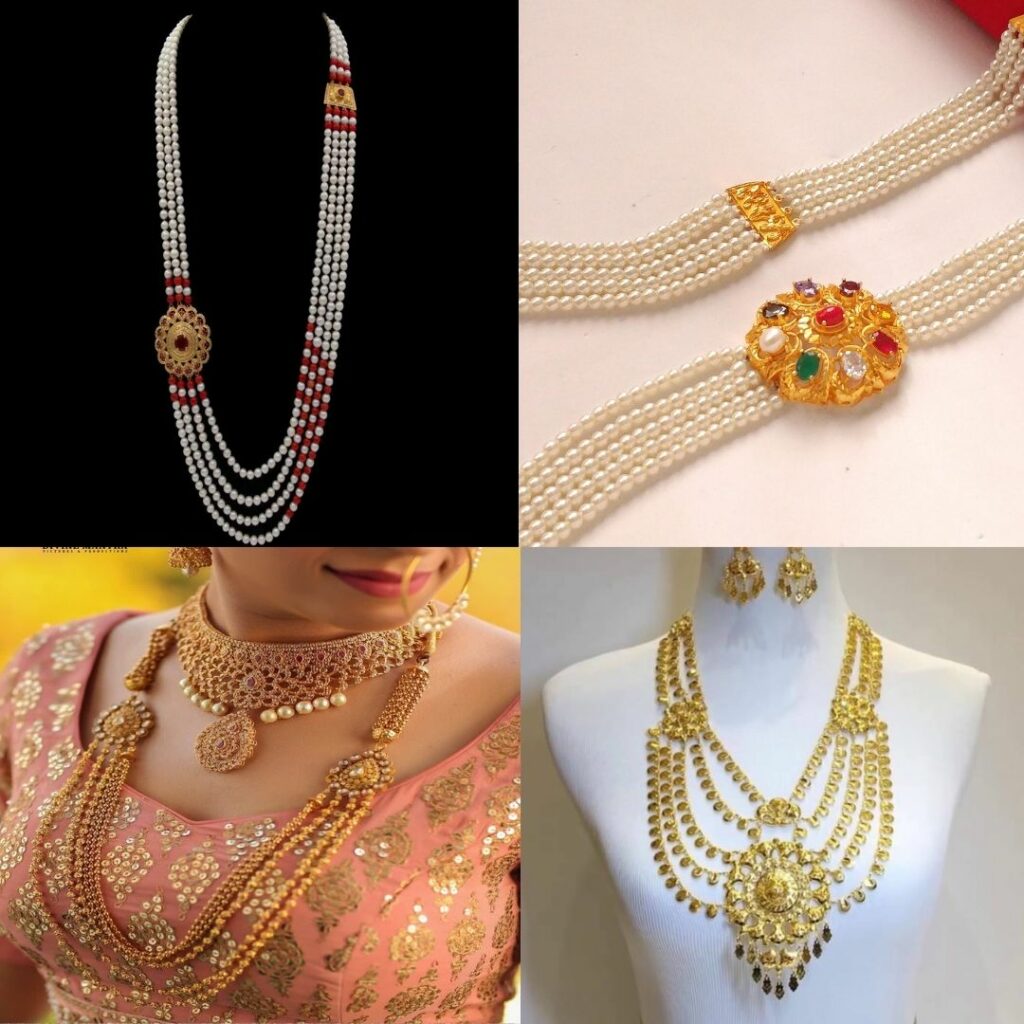 A simple chain Rani haar with Kundan stones
Kundan stone means highly pure and refined gold, usually consisting of a core of wax. It is the oldest form of jewelry and is believed to be arising from the royal court of Gujarat. It consists of gold-plated designs with beautifully structured pieces of golden stripes. This Rani haar includes a detailed outline that involves a lot of skilled labor. The price of original Kundan jewelry is estimated to be 50,000 to 2 lakh but can also be found in 4000 to 5000 in local places.
This Kundan-styled jewelry was many centuries ago, and now it is available in most countries. The Kundan stones match all patterns outfits and make you look incredibly elegant and stunning. It perfectly suits the bridal style and other styles as well.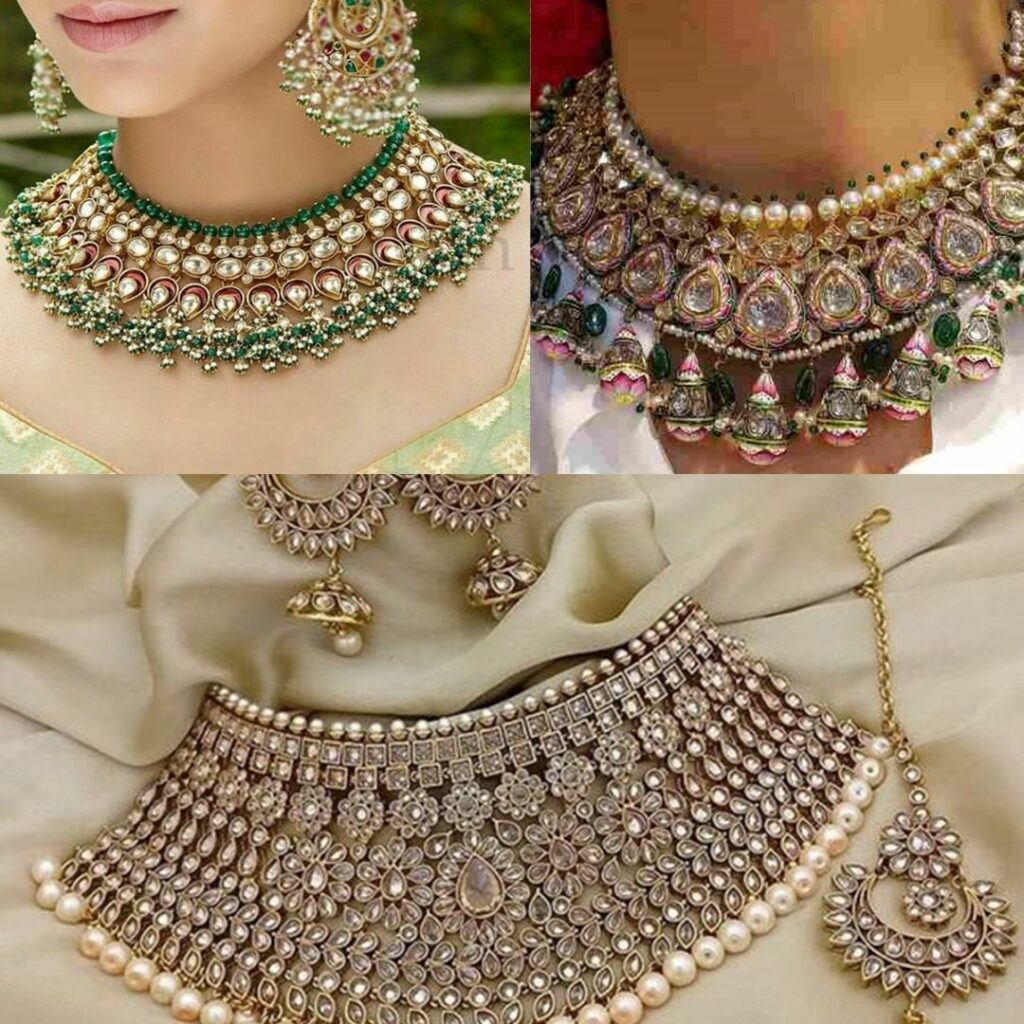 Simple temple wear Rani haar
This is the latest design of Rani haar available in Nepal. It consists of a tiny amount of gold beads with a small tight neckpiece and a long chain pendant or types of Mangalsutra. This type of haar is common during the wedding ceremony, which gives the bride a stunning look. This necklace goes perfectly with the bridal outfit. It comes with a set of attractive neckpieces and an earring in it. This set can be worn while going to the temple, so it is also known as temple jewelry. It usually weighs about 695 grams and is a very conservative design. This haar shows the language of unity in diversity.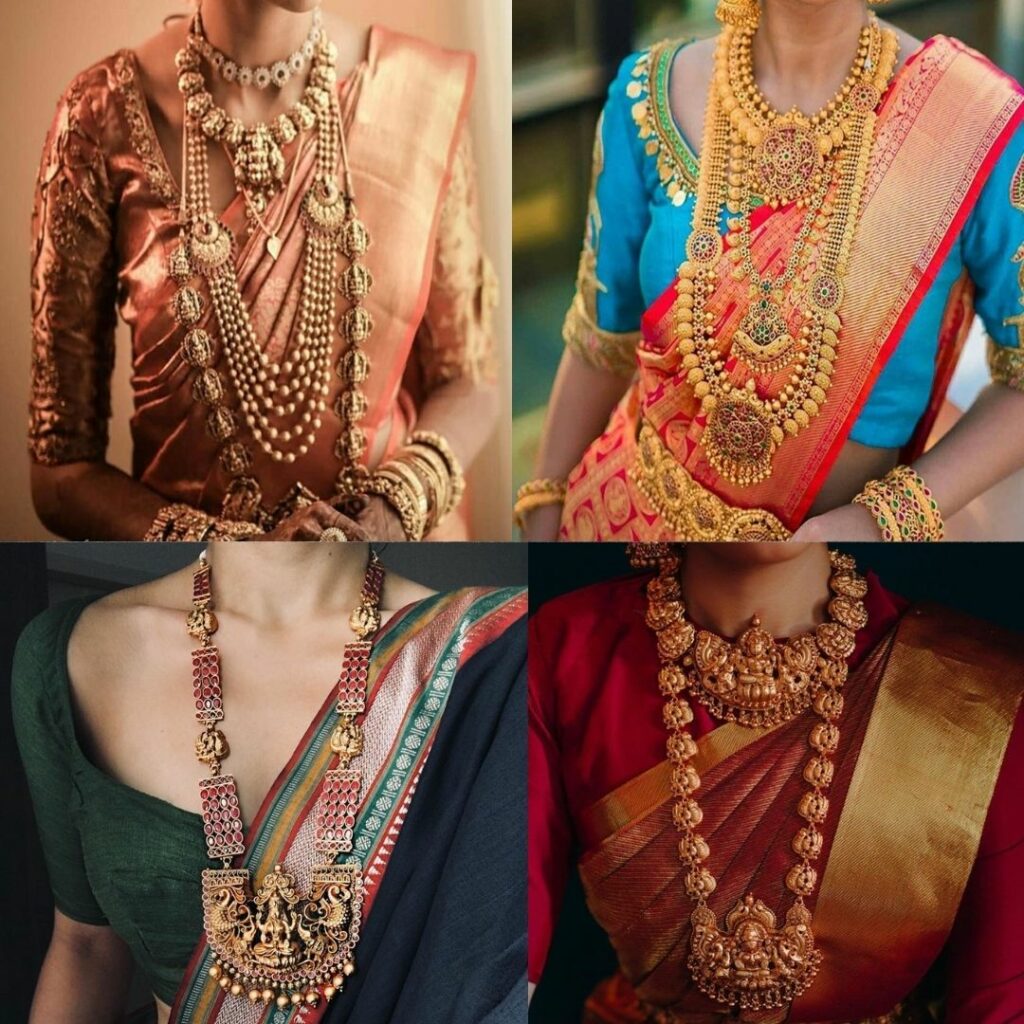 Red and white stone choker Rani haar
This stringed Rani haar consists of red polished precious stone, with many other white stones mixed in it. These haars are prepared with Kundan stones with many other different mixed colors. Usually, they are heavier in appearance and consist of many other small chains attached to them. The multiple layers used in this set increase the size of each layer. Due to this, they look very heavier but they look very stunning with the layer. The cost of this emerald neckpiece is estimated to be around 5000 for small in minimum, the price goes on increasing with the size. You can also pair this haar with a pearl choker necklace with the set of its red attire earring and bangles.
Laxmi haar
The Laxmi haar usually represents the beauty of married women that is available with beautiful designs. It is a traditional and exclusive wear for women with 22karet of gold in it. Laxmi haar is usually used during the wedding ceremony for giving the bride a beautiful look. This attractive rani haar goes perfectly with a traditional look like a sari and lehenga. If you want to look more stunning then you can find the matching set of earrings, sir bani, and bracelet. It may be a long chain pendant, a short tight neckpiece, or in Mangalsutra design. The cost of it increases with the increase in the size of it.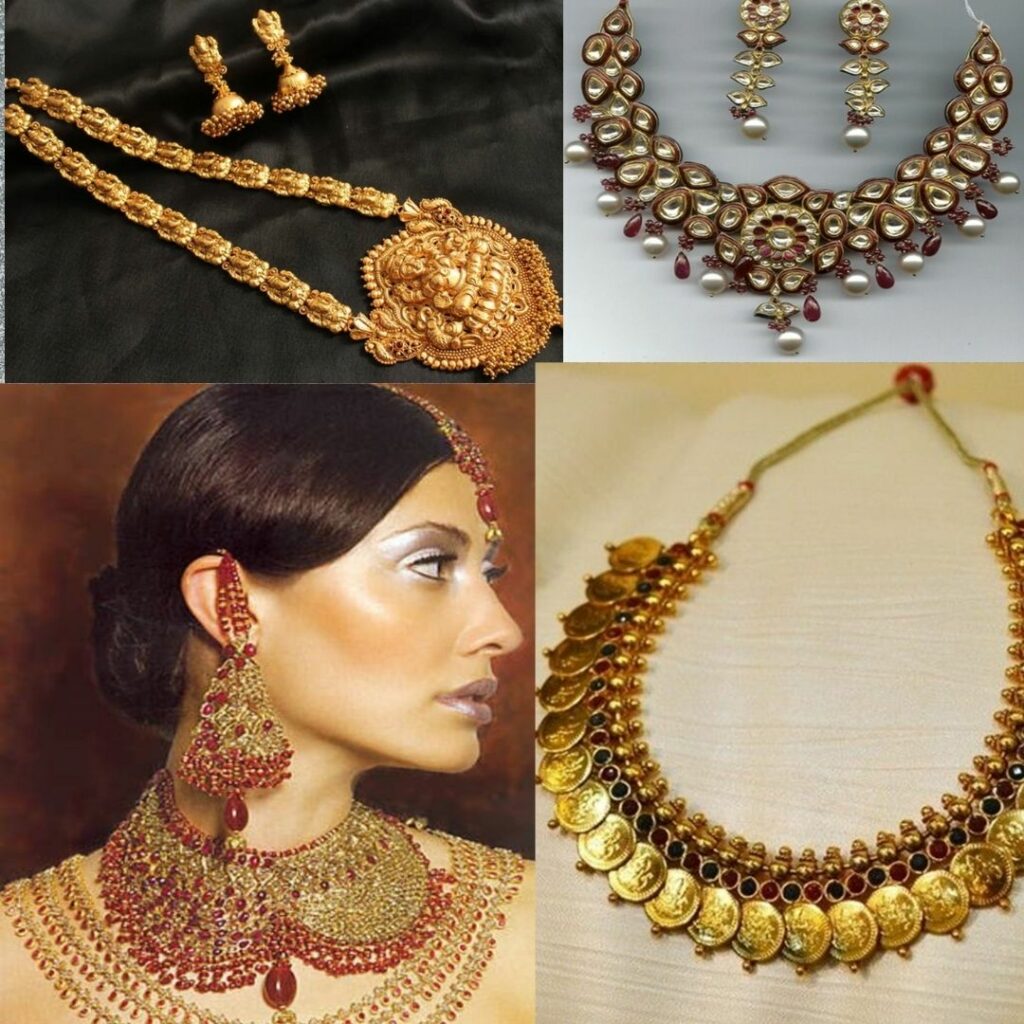 How is Rani haar different than naulakha haar?
Naulakha haar is the famous Darbanga jewel which is considered as one of the fabulous necklaces all around the world. The initial cost for making this necklace is 9 lakh so it is called naulakha. This haar can also be found on gold plated which is very cheaper than the original haar. Since the cost of gold-plated rani haar was 5000 to 10,000 initially that is very cheap as compared to naulakha haar. But nothing can beat rani haar if you want to look like a queen or maharani.
Conclusion
Rani haar has become one of the best choices for a bridal outfit for the wedding ceremony. They vary from long necklaces with huge pendants to short neckpieces attached to the neck. They have a very royal look and give a beautiful look when worn. The cost of it varies upon the design and the skills used to make it. And also depends upon the quality of the gold ornaments, used to make it. There are a lot of main things that we should focus on while buying this neckpiece.
Buy these Raani hear, Naulakha haar, Laxmi haar, chocker set, and temple Rani haar from online saathi.