Before moving to our topic Best Pasni dress for baby boy and Girls let's understand about Pasni first. Pasni, also known as the Rice Feeding Ceremony or the Weaning Ceremony, is a Nepalese celebration in which a child is first fed rice by the maternal grandfather. Although a centuries-old tradition, modern science has established that a child's digestive system is capable of processing solid food when they are about six months old, which is why Pasni is celebrated when a baby turns six months old, though this can vary between daughters and sons.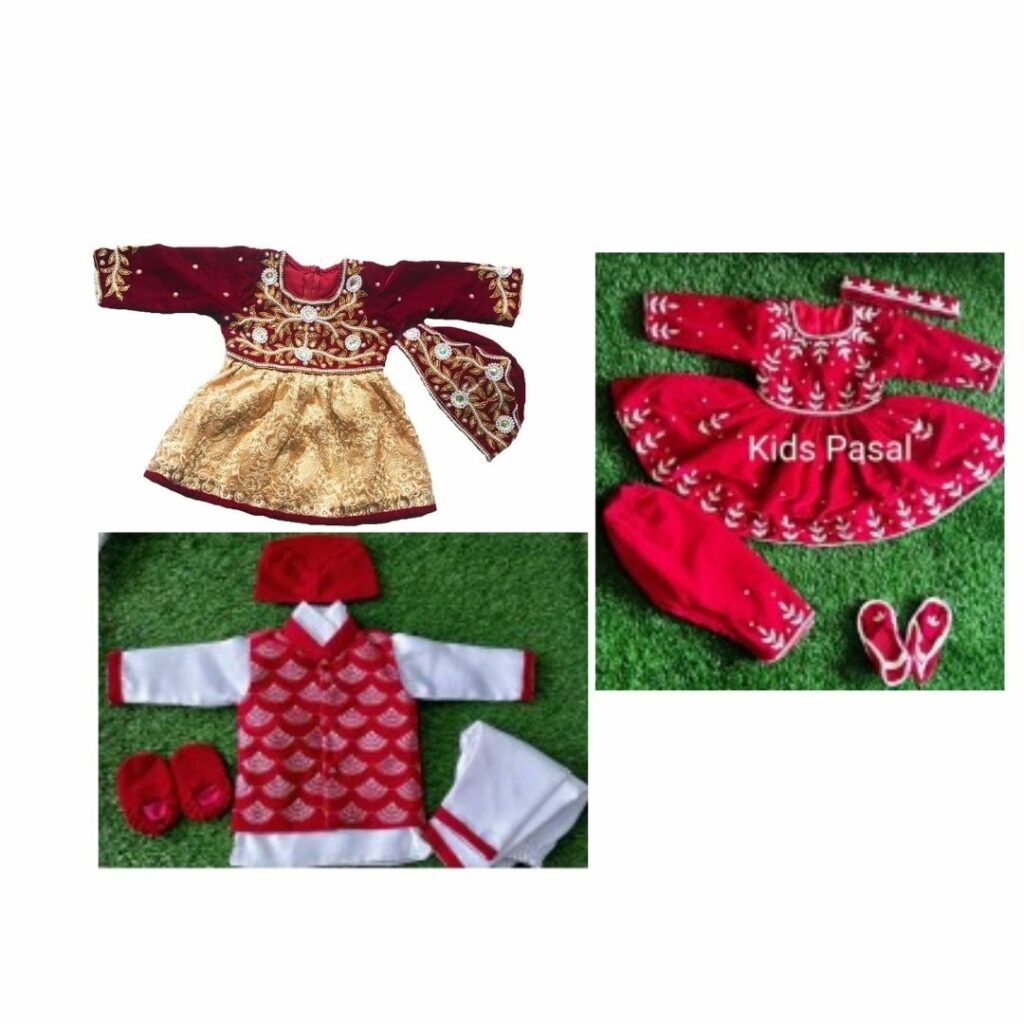 This ceremony takes place at the age of five months for daughters and six months for sons. An astrologer, usually a Hindu, chooses an auspicious date and time, and all close relatives are invited to witness and celebrate. Rice is the first and most easily digestible solid food that a baby consumes. This custom varies according to religion, caste, and location. Gurung, Magar offers kheer (rice pudding), which is made by cooking rice with milk and sugar. Brahmins and Kshatriyas behave similarly. In Newar, a wide variety of dishes are prepared and served. The main course is served on a massive (often woven) plate of leaves. The remaining dishes, usually 84 in total, are served around the main course.
Pasni Dress for Baby Boys & Girls
The baby is dressed in saffron silk cloth (although modern families will often put on a diaper (nappy) to prevent accidents). The mother holds the baby while the entire family feeds them the first taste of rice. The mother has the right to feed the child first. This is because, symbolically, she is asking the gods to bless the child, who is now entering the world of other regular food. Traditional musicians can be invited to begin the function at the appointed auspicious time. Following the baby's meal, she or he will go through another lengthy puja (worship ceremony), which is often led by a priest and accompanied by chanting from ancient scriptures.
Importance of these Dress
During Pasni, The baby is dressed in a special outfit for the rest of the day, which is usually made of red velvet and embroidered with silver and gold thread. Close relatives and grandparents give the child gifts, including money and gold and silver ornaments. These ornaments include heavy silver anklets (kalli) with dragons carved on both ends to keep bad omens away from the baby. These ornaments can be passed down as family heirlooms. Sons in some Newari communities may also have the upper lobe of their right ear pierced with gold ornaments and various beads.
Pasni ceremonies have become increasingly lavish in recent years, with large parties of not only close relatives but also colleagues and friends invited. Hundreds of guests attend a wedding-style banquet under tents, which are frequently catered by commercial catering companies. They also bring gifts for the child, a new custom that has grown in popularity with the commercialization of children's clothing, toys, and other gift items.
Buy these amazing Pasni dresses for baby girls and baby boys from online Saathi online shopping Nepal.
In temples dedicated to female tantric deities, simpler ceremonies are also performed with only a few relatives present. The ceremony differs from one family to the next because each family incorporates its own long-standing family traditions.
Here are the search terms for Pasni in Nepal
Pasni dress for baby girl price in Nepal
Pasni dress for baby girl and mother
Pasni jewelry for baby girl
Pasni dress for family
Looking for Montessori classes for your child you can consult kpadhne for finding the best Montessori in Nepal. Kp
Conclusion
Well if you are looking for pasni dress Online Saathi is the right place for you, Get these amazing occasional dresses from online saathi your shopping saathi. Online saathi is a complete solution for the baby's needs including clothes and toys. Whatever is the occasion we bring you the best option to pick and choose from. Our wide range of products and direct communication with sellers makes your customized order more need-oriented.